Cycling in the Jalon Valley – Coll de Rates – Coll de la Vall d'Ebo – Coll de Bernia – B&B Buena Idea and more!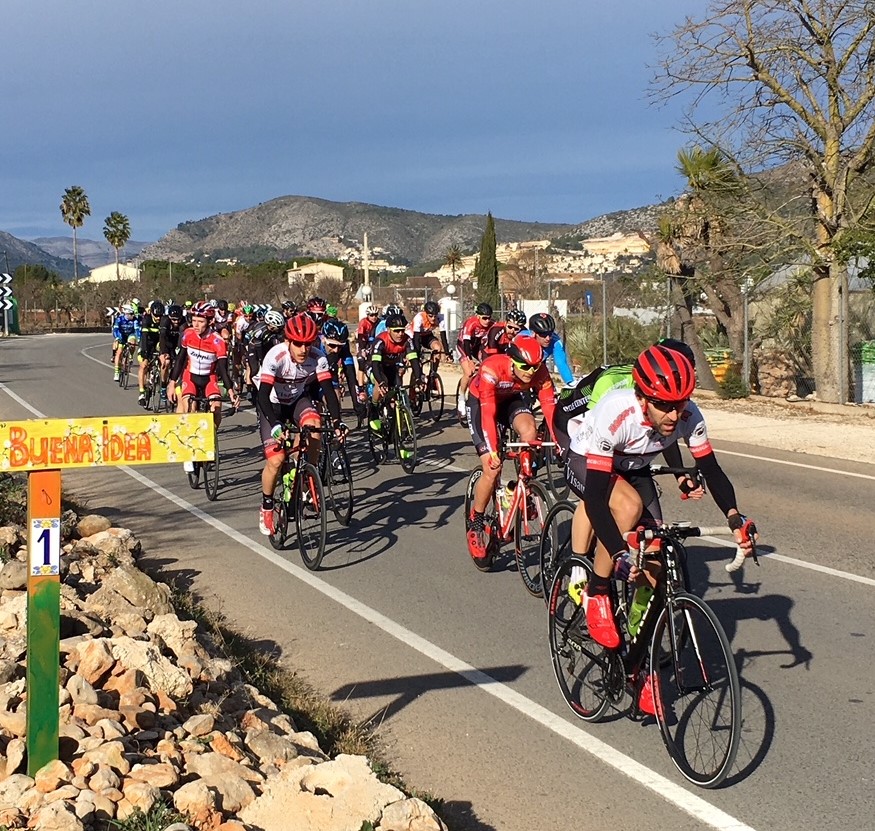 Cycling in Jalon Valley
Those who love cycling can no longer ignore the Jalon Valley behind the Costa Blanca. It is not without reason that almost all professional (Vuelta) teams train here. It is the area of ​​the famous Coll de rates, Coll de la Vall d'Ebo and Coll de Bernia and is suitable for all levels of cycling enthusiasts. From professional to amateur and of course the recreational cyclist.
B&B Buena Idea is the ideal place to stay for cyclists in the Jalon Valley. Located at the bottom right in the heart of the valley, only 70 meters from the CV750 – the main road that runs through the valley and where the pelotons pass by regularly 'at the B&B's front door'. From here you can really cycle in all directions, without encountering much traffic or traffic lights. Reservations
The Jalon Valley is the ideal place to improve your condition and technique, thanks to the many climbs that you can find here. The most famous one is the Coll de Rates, a second category climb that starts from Parcent and is 6.5 km long with an average gradient of 5%. This climb is a real test for every cyclist, with a steep start and a false flat end. The Coll de Rates is also important because it is one of the highest points of the valley (626 m), and because it offers a beautiful panorama over the whole region. Other climbs that you should not miss are the Coll de la Vall d'Ebo (8 km / 5%), the Coll de Bernia (11 km / 4%) and the Port d'Alcoleja (15 km / 4%).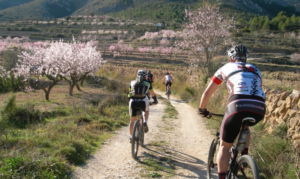 MTB – mountain bikers also feel at home in the Jalon Valley as it offers Mountain biking at the edge of the Mediterranean. The perfect combination of sun, sea, beach and active escapes in the beautiful and rugged terrain just off the Costa Blanca coast. MTB – Mountainbiking in the Jalon Valley means: beautiful gravel paths through olive and orange groves and challenging single tracks in the mountains.
What makes B&B 'Buena Idea' so suitable for ALL types of cyclists? Its central location in the heart of the Jalon Valley!
Our (Adults Only) B&B is literally located in the heart of the Jalon Valley. In between almond groves and vineyards at only 70 meters from the CV 750 (where your rides to the Coll de Rates – Coll de la Vall d'Ebo and many more start) and only 700 meters from the town of Xaló-Jalon.
We offer 7 different rooms. Each with 2 comfortable (individual) beds and private bathroom. Except for one room everything is at groundlevel. That includes the Greenhouse with terrace where we serve breakfast, the large flowered garden with lots of seatings and the inviting lounge area overlooking the mountains.
In addition you will find an outside swimmingpool, adequate private parking for 7 cars, a bike parking and of course access to free Wifi. There are a number of very good and affordable restaurants at walking distance from our B&B including 'Bistro Selene' at only 300 meters from our frontdoor.
Professional bicycle rental 'tailor-made' & delivered directly to our B&B!
We have several excellent bike rental companies with state of the art equipment in the immediate vicinity. Based on good experiences, we are particularly charmed by these providers:
Alta Bike Rental: Road bikes and E-road bikes. Cutting edge material including top bikes from the Italian racing brand Wilier. Bicycles are 'ready to go' delivered and picked up at our location. If there is a problem with your bicycle, they will come to us for repair.
Allure Bike Rental: Racing bikes Allure Bike Rental only offers high-quality carbon racing bikes, which are fully equipped. Allure Bike Rental is known for their clear communication, excellent service and of course your bike is, fully adjusted to your personal measurements, delivered at our B&B.
Snakebite MTB Adventures: Focuses entirely on Off road cycling. As their 'base-material' they have – based on the best price-quality ratio – opted for hardtail MTBs with aluminum frames. In addition to rental, Snakebite organizes guided tours in challenging area's that they know like no other. For those who prefer to travel independently, Snakebite can help with suggestions for routes with start and finish at our B&B Buena Idea (GPS).
B&B Buena Idea provides you with a closed courtyard. For more information: info@bnbspain.com and Reservations
Looking for Jalon Valley Cycling Routes? Click here:
– for Cycling Routes in Jalon by Bikemap
– for Five Amazing Cycling Routes From Xalo – Jalon Valley, Costa Blanca by Esther & Dan – Adventuring Together – Life, Love, Health & Travel
– for Jalon Valley Routes by Routeyou